It's a bit late in the day (a compressed blogosphere day, that is) but here's my wrap up of the rest of 1.1.3's enhancements. I'm not going to detail all the changes. As I said this isn't going to be a copy and paste blog, and the changes are well detailed elsewhere. I want to pick out a few of the things that others may have skipped over, and what they mean for the iPhone in the future.
Naturally, I installed the 1.1.3 firmware update as soon as the Macworld keynote had finished last Tuesday. Unfortunately the install wasn't of the Apple "just works" variety – iTunes displayed an unknown error, as discussed on this Apple forum posting. The phone hadn't been reactivated owing to my SIM lock, but I didn't notice anything was really amiss until I tried to make a call and reception stayed firmly at zilch. Re-docking the iPhone fixed it and I was able to get down to enjoying the new features.
Surprisingly, my custom ringtones – made using the .m4r method – survived the upgrade, and new ones made in this way also transfer to the phone.
So What's New?
Aside from the big ticket items like geo-location in Maps, the new firmware brings:
iPhone can be used with 64-bit Vista
Gift cards can be redeemed in the iTunes Wifi store, and the "Downloads" screen of the Wi-Fi Store shows your current account balance
Pressing and holding the shift key now works as on a desktop keyboard, i.e. it keeps capitalising letters as you type
Volume notifications have been improved. Seeing as a main focus of the iPhone is the fact that it's an iPod as well, this adds just a little extra sauce. Changing volume is now differentiated depending on whether you are changing the volume on:

the ringer
the ringer while headphones are connected
headphones
speaker, while playing music through the speakers

This is useful because there are effectively two volumes being controlled – one for the ringer and one for the music (or video) playback.
iTunes 7.6
Other file management enhancements are brought to the iPhone (all firmware versions) via the release of iTunes 7.6.
Manual music and video management

You can now drag and drop files from the Library straight onto your iPhone. Be careful though – you cannot manually manage music and automatically sync movies at the same time (and vice versa). If you choose the "manually manage" option in the Music tab, it will silently choose the same option in the Video tab as well.

Podcasts

These must still be managed manually, but you can now sync the oldest unplayed podcasts rather than only the most recent (yay!)
Webclips and Home Screens
Webclips is a great little function, which works by adding a bookmark to the Home Screen. It allows monitoring of a specific part of a webpage, creating a bookmark starting at the point of the page that you've scrolled to. That's ideal for keeping an eye on eBay auctions. You can also bookmark RSS feeds.
By default, the webclip icon will be a shot of the top-left of the web page, but web developers can override this by putting an image file on their web server. This will create a custom icon for the Home Screen. Try it on All About iPhone and you'll find our logo pops up.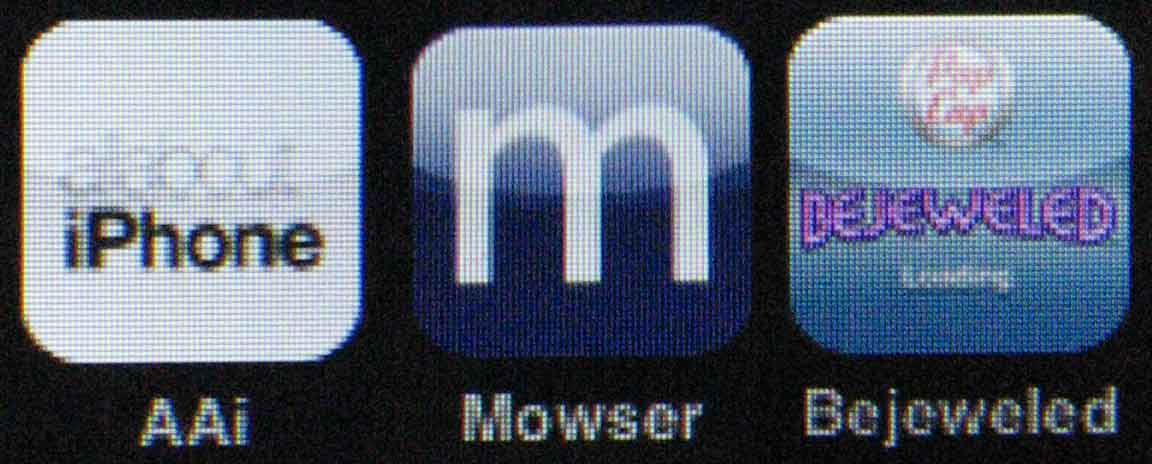 (Quick aside: The text underneath the icon is limited to 11 characters, after which it will display the start and end of the name separated by 3 dots).
You can manage these by tapping and holding on the icon, which will then start to wiggle, enabling you to re-position or delete the icon. I have to admit, having the icons jiggle around when you're moving them on the Home Screens is quite amusing. They move smoothly from screen to screen, creating new home screens as you go.
Count the Apps
Adding and managing webclips is obviously a prelude to installable applications, which will probably land around the end of February (-ish).
My concern is in management of all these apps. You're allowed a maximum of 9 Home Screens. With the 13 pre-installed apps (and the 4 on the dock), that leaves 131 spots for installable apps or webclips. That's 148 icons in total.
Here's a quick and dirty mockup of how those screens will look in sequence (click on the photo for a larger image):


Can you say visual overload?
I've previously knocked Nokia for the seemingly endless nested folders on S60, with apps squirreled away in the depths of the phone. I have to wonder, though, how I'll feel about having page after page after page of icons to get through on my iPhone, especially if they are webclips with a non-customised icon.
Mentally trying to map un-named Home Screens will, I believe, be more taxing than having easily named folders such as "Games". Plus what happens if you need more than 131 apps and bookmarks? Is it a case of come back folders all is forgiven? Or do we need to use some folders and just a few home screens. I think I'd like to be able to name home screens with perhaps a quick Growl-style notification to give you the name (i.e. Games) as you scroll through.
Perhaps even, as the phone takes on more and more functions previously reservered to the PC, we will need application launchers for mobiles, a la Quicksilver for the Mac.
Overall
It definately feels like an incremental upgrade – Safari and Mail are still crash-prone, for example – and not a massive amount has changed. But webclips, the home screen and a mapping service that attempts to locate you, are a prelude to the future of the iPhone and iPod touch as a platform. Roll on 1.1.4…
Note to Apple (who I'm *sure* are avid readers): I'm not even going to mention multiple SMS as an "upgrade"…
UPDATE:
Adam at lonelysandwich has also posted about a few of the little things from the new firmware which I missed, including new SMS notification, updated Safari (whoops can't believe I forgot to mention that) and the new Dock flying-in action. He also mentioned diacritics, which I used as one of my tips in the Smartphones Show 51.