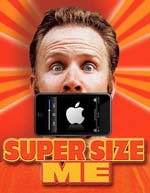 The tech furore has subsided, and we're left with Apple's tablet – the iPad. Whether you're of the opinion that it's just an oversized iPod touch or something more, it has certainly had a massive impact.
All About iPhone contributor Andy Cook has already given his opinion.
I also asked Steve Litchfield if he was considering getting an iPad. His response:
The iPad itself is not for me, I type in too much text! But I can see it being perfect for other family members, each of whom the has "the full Internet" (minus Flash, of course!) in a single A4 device that doesn't have trailing wires or get hot or need a pointing device. So yes, put me down for a place in the queue, shortly before the drive to my parents house to get it "installed".
So it's not for Steve. But he, like me, can see the appeal for those who want a rich Internet and media experience, without having to worry about all those viruses, software updates, and general management overhead that's associated with a computer.

However, I'm firmly in the "it's not just a big iPod touch" camp. I believe this is nothing less than Apple's attempt to reconceptualise the personal computer.
I've been doing plenty of reading on this, and there are three articles that sum up what I've been thinking about the iPad.
Daniel Tenner describes the iPad as "an Apple for Mom – the uncomputer for the people". Note: not an iPod touch for Mom, but an Apple for Mom – a replacement for a complicated computer she never wanted in the first place, just to catch up on photos of the grandchildren.
Frasier Speirs believes the industry is suffering from "Future Shock", and that the iPad "will dramatically change people's perceptions of computing from something to fear to something to engage enthusiastically with".
In the same vein, Steven Frank writes that, "The iPad as a particular device is not necessarily the future of computing. But as an ideology, I think it just might be". Or, just as succinctly in his follow-up post:
Do we really have to continue to baffle and frustrate millions of people because a handful of people just can't live without their 4-way virtual desktop window manager?
There. That's the nub of it. Computers are difficult. Even for those of us who understand and can operate them fairly well, they may not do what you want all the time, and can just inexplicably go wrong.
A case in point: As well as writing this article today, I'm having to re-install Leopard on an old iMac. Why? Random shutdowns. I've tried all the Mac voodoo I can: repairing permissions, resetting NVRAM and PMU, etc., and you know what? It didn't work, plus I've no idea if the re-install will fix it. If I could buy an appliance that did exactly what I need, then I would. No messing around, no files, settings or even an operating system to worry about – something that just does the job.
This is where the iPad will really appeal. Not to those who can't see the need for a third category of device between their phone and their laptop, but to those who don't really want a computer at all – who want something that just does what they need. Yes, the iPad lacks certain things from a geek perspective, but I don't think these are omissions are important for the target market.
For me, even given my enthusiasm for the iPad, I won't be buying one right now. I can do everything I want to with my iPhone and MacBook. Like Steve Litchfield, I can see myself buying buying one for my parents. But I can also a time when I will buy one for myself.
Appliance Computing
I can see myself buying an iPad, or a device like it. We're moving towards an era of appliance computing, where computers abstract away the desktop metaphor, to leave the content as the primary focus. So how would this fit for me?
The distinction between my phone and my laptop will shrink, as my iPhone expands to do more things. But there still won't be enough screen real estate to do a lot of tasks on my phone, without it seeming like a chore. Enter the iPad.
With a few tweaks, the iPad will be able to cover the majority of things that I currently use my laptop for. With all that extra screen room, iPad apps are going to feel more like desktop apps. And with an iPad dock (such as this concept), I'll be able to practically turn my iPad into a desktop computer (when I need to). Add a simple media server / router such as a Time Capsule into the mix, and what have I got? Less time faffing around making computers work, more time getting stuff done, and an increased amount of mobility i.e. choice in terms of where I do use a computer. That's the hope, anyway.
Is this going to be worth it?
It's a case of suck it and see. People complained when Apple first released the Macintosh in 1984? "Pff, all this desktop nonsense is confusing compared to the simplicity of the CLI!". But it caught on.
Don't get me wrong, I like the control I have with my laptop running Mac OS X 10.6. But the iPad makes me think about why I switched to the Mac in the first place – I was fed up with Windows taking so much time to maintain, and just wanted to get things done. So if switching to an iPad helps me get even more things done, then it'll be a done deal.
Sure, the iPad can't do all the things I need it to do in order to ditch my laptop – yet. But I'm pretty sure it won't be long before it does. There's also a big gotcha in terms of Apple effectively controlling everything that I can do with an iPad through the App Store, so I'll have to keep an eye on that.
Just a supersized iPod touch? Hardly.