This app has been generating quite a bit of interest over the past few days. Why? This isn't the first app to play movies not supported by Apple – if you've jailbroken your iPad, you already have access to VLC4iphone, openstreamer and YXflash.
But now Apple has allowed an app onto the App Store that can play DivX and Xvid. No jailbreak required.
This is an interesting development, no doubt, but how does the app work in reality? Does it play files well, and does it suck battery?
Read on for my experiences with this app so far, plus (in a first for me), a video walkthrough!
This app was released by NXP Software a few days ago, and has generated quite a splash. Not only does it enable you to watch DivX and Xvid movies on your iPad without converting them first, but the app is free!
Here's a video of CineXPlayer in action, showing the basic functionality: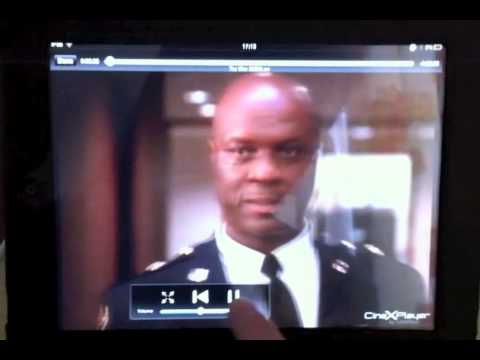 If you quite the app mid-way through watching a movie, it'll resume where you left off when you open the app again.
Seeing as this is doing in software what Apple does in hardware with .mp4 files, the player works very well. Decoding in software does mean a slightly higher battery hit though – for an hour's viewing, my battery indicator dropped from 100% to 86%. Mind you, Apple rates the iPad for 10 hours of video playback (using their own hardware decoding), so that's not bad.
File support
I'm not sure of the exact specifications of the video that this app currently supports – there's no mention of maximum resolution or filesize. The developers have made it clear that they don't support newer file formats such as MKV or AAC – yet.
What about the 2Gb limit?
On the iPhone, apps are limited to a 2Gb sandbox – so for any app, you can't use more than 2Gb of data. But with the iPad, the sandbox is only limited by the amount of storage on the device.
What does this technical gubbins mean? It means you can put as many movies into CineXPlayer as you have space on your iPad, making it a viable alternative to Apple's built-in Videos app.
Future Development
I'm quite surprised that Apple has allowed this on the App Store. But if they let it remain, what could we see?
Support for more file formats
Removal of the top bar, to provide true full screen video
A paid version with more features, perhaps support for folders
Hopefully a change to the user interface
iPhone version???
I'd also love to see the app become network-capable, removing the need to transfer files via iTunes. But that would kill the battery, I'll bet.
All in all, this is a great app, which removes the hassle of having to convert video specifically for the iPad. Grab it now, just in case it disappears from the App Store!
CineXPlayer
Version reviewed: 1.1
Category: Utilities
Developer: NXP Software
Current Price: Free
Platforms: iPad
UK App Store Link