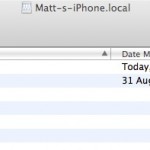 Depending on your point of view, there are quite a few things missing from the iPhone. One of these is direct disk access – the ability to use your iPhone as a standard mountable hard drive.
Classic and nano iPods has this ability (known as Disk Mode), but iPod Touches and iPhones do not.
There's no USB access to iPhones yet, apart from Ecamm's PhoneView.
Far more prevalent are over-the-air solutions. Jailbroken iPhones have had this for a while, using either SSH or Netatalk. There are also numerous paid-for options at the App Store, such as File Magnet and DataCase. But for the next two weeks, there's a free option – Air Sharing.

This app's going to sell for US$6.99, but for the moment it's free, and offers both the ability to use your iPhone as a disk, plus viewing of documents, photos, video and music on the device itself.
Since I've installed it, it has pretty much done what it said on the tin. Bonjour support has been a little flaky for me, but I guess that's because I had Netatalk running when I first installed Air Sharing. So, I've had to manually connect the iPhone. Other than that, it works like a treat. Get it while you can.
|
An article I'd been planning for a while involved comparing the third party application scenes of the Symbian, Windows Mobile, Palm OS and Apple iPhone worlds. While this will still happen in the fullness of time, the flavour of each 'scene' is becoming very obvious and I was struck by one specific point from the iPhone world.
Some of the early stars of the iPhone AppStore are simply very 'joined up', mashing iPhone and Web services together seamlessly. Well, almost seamlessly. Apologies for another link over to AAS, but hey, that's where the article is hosted. I review Movies and Vicinity, two of the very top iPhone applications, explain why they're so great and also address whether competing (Symbian) smartphones and their apps can rise to the same level.
A couple of years ago my Nokia N93 took some damage to one of the microphones, after a visit to my local Nokia Service Center I patiently waited for my beloved N93 to return to all shiny and new. I waited, I waited some more, phoned the service centre and was told to wait a bit longer. Eventually, after a mere 3 months, my phone was returned to me. Imagine my anger to discover that there was no improvement, the microphone was still obviously broken. After a 20 minute chat with a manager and another 4 days wait the phone was replaced.
After such a bad experience I was not looking forward to my trip to the Apple Store yesterday. With 2 broken iPhones in hand I approached the Genius Bar of the Southampton store.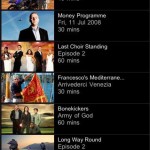 A while ago I wrote about the BBC launching iPlayer for the iPhone. Well, they've now gone one better. The whole iPlayer site has been redesigned, as detailed in this BBC Internet Blog post. But when you log onto it from an iPhone, you now get an iPhone-optimised site.
As with many other successful iPhone-optimised sites (such as Facebook), it uses a tabbed interface and really focuses on the essentials.
It's much more navigable – no more pinching and zooming – and a great improvement, as you can see from the screenshots.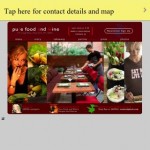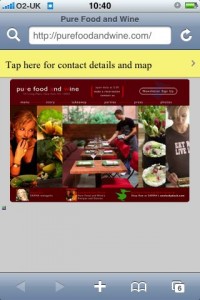 Schmap are releasing a public beta of a new service today to enable your website for the iPhone. Add Schmap's javascript snippet to your website, and it will additionally display contact and address information formatted in a very iPhone-friendly way. Here's how it looks on their featured site, Pure Food And Wine.
Touching any of the fields will launch the relevant iPhone application e.g. touch the phone number to call the number. Turning the phone on its side will keep the contact details visible and also show a map.

|

I can't believe I haven't mentioned this before. A little while ago, Ross McKillop developed O2 MMS, which enabled you to read multimedia messages on your iPhone, without going through O2's torturous non-iPhone friendly website. It's a donation-supported service with no jailbreak required, and is listed on Apple's Web Apps directory.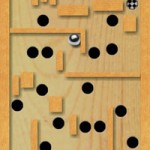 |
Remember when I said that awesome and innovative games were coming? Well, that doesn't just mean complex, graphics-heavy games, but those that make use of the fusion of capabilities that the iPhone has.
Labyrinth is fine example: it's a very simple version of the wooden box game that makes great use of the accelerometer. Think Super Monkey Ball with a top-down view. And no monkey.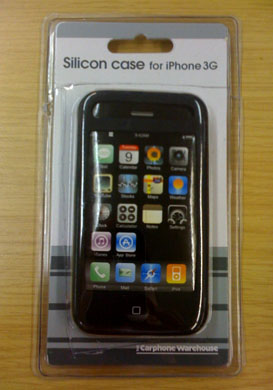 Having finally managed to track down a 16Gb model, I was looking for a case for my new iPhone. I wanted something similar to my original iPhone case, which was made by XtremeMac. This case has fared fairly well in my hands, but had been destroyed by those of a toddler. Anyway, it wouldn't work with the new iPhone because it covers the optical sensor.
Requirements were:
Soft case, not hard plastic
No need to remove the case or open a flap to dock
Slim and form-fitting – the iPhone is brick-like enough already
Relatively inexpensive – in case of needing replacement thanks to toddler attack
Available in-store for instant purchase – any waiting could result in scratches