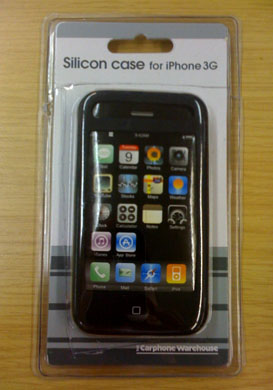 Having finally managed to track down a 16Gb model, I was looking for a case for my new iPhone. I wanted something similar to my original iPhone case, which was made by XtremeMac. This case has fared fairly well in my hands, but had been destroyed by those of a toddler. Anyway, it wouldn't work with the new iPhone because it covers the optical sensor.
Requirements were:
Soft case, not hard plastic
No need to remove the case or open a flap to dock
Slim and form-fitting – the iPhone is brick-like enough already
Relatively inexpensive – in case of needing replacement thanks to toddler attack
Available in-store for instant purchase – any waiting could result in scratches
I had a quick look around town and could only find expensive cases (£20+). But lo and behold – Carphone Warehouse to the rescue (I've never said that before!)
I found the Silicon case for iPhone 3G at Carphone Warehouse for only £9.99. It's fairly thin, but fits the phone incredibly snugly, and has a very silky feel. All the sensors and buttons are correctly exposed, and it has extra tactile grips along the sides. As a scratch-preventer, it'll do nicely.
The only thing missing is a screen protector. These are sold additionally at CPW for £9.99, but are cheaper online. Luckily I've been able to re-use the protector from my XtremeMac case. Other than that, it just does the job.
Verdict: It's cheap and functional, but I was pleasantly surprised by how nice this own-brand case is. Recommended.