No, no, not another post referencing the iPhone's AppStore – and in any case, Nokia for one can't be accused of going all me too on that front, since every Nokia smartphone since 2005 has had a 'Download!' on-device store (just not a very successful one) – what I'd like to focus on here are the innovations in the iPhone's form factor and how Nokia and others are responding.
Cast your mind back, if you will, to the momentus MacWorld keynote at the start of 2007 in which Steve Jobs announced the iPhone to the world. The three main points which stuck in my mind about Apple's new creation were:
The way in which the 'too much plastic' problem was overcome. Now, full-screen PDAs had been with us for years, and some Windows Mobile smartphones were just that – full-screen PDAs with a phone tacked on. But Apple brought us a full-screen, purpose-built phone that aimed to compete with the 'plastic-ridden' qwerty-keyboarded smartphones at their own game, but without a physical keyboard.
Finger touch was now OK. After years of everyone saying 'Don't touch your screen, you'll get it dirty/greasy', it's now not only OK, but indeed the only way to interact with your device. Radical.
The iPhone interface, seamless from top to bottom, doing away with menus and finger-friendly throughout. Purpose-built, you might say, even though in reality it sits on top of a version of Mac OS X.
Three impressive bullet points from Apple, woven into a product that, taken holistically, was extremely well rounded. Very, very few bugs or issues. Which is not to say that the iPhone didn't have gaping holes in its functionality, but at least what was there was superbly implemented. And, at this stage at least, the App Store was yet to come.
Leaving the rest of the phone industry in something of a daze. Never mind that the price points were often very different, everything they produced was now going, to some degree, be compared to the Apple iPhone. 
Considering the smartphone world, the top 20% of so of phones that the iPhone was more directly competing with, manufacturers had a problem. S60/Symbian and Windows Mobile were both so well established that Nokia, Microsoft and their licensees and partners simply could not afford to throw out their codebase and start from scratch, which is what market entrant Apple (and upcoming competitors Palm [Pre] and Google [Android etc]) had the luxury of doing.
We'll come to Nokia and S60 in a moment, but the current mess that is the Windows Mobile world is nothing short of shocking. A base, stylus-friendly OS that hasn't really changed for 5 years and half a dozen completely different graphical skins applied over the top by each WinMob licensee. And, in each, case, try to do more than the very basics and you're dumped back in the standard stylus-centric and stone age Windows Mobile screens and dialogs. Horrific. Windows Mobile 6.5 is about to be announced and will help slightly, but the picture of an Elastoplast being applied over a gaping wound comes to mind.
S60, Nokia's one-handed interface built on top of Symbian OS, was theoretically in the same boat – in fact, the situation was even worse because there are 200 million S60 users in the world, all of whom would be mightily upset by a drastic change in interface or underlying platform. That's a lot of people to annoy – almost everyone in this 'space' has owned or at least played with an S60 phone at some point.
However, unlike Microsoft and their licensees, Nokia, like Apple, had the luxury of not having a legion of other companies eager to add their tuppence worth and could thus come up with a solution that was at least halfway elegant. We're not talking Anne Hathaway here, more Fearn Cotton…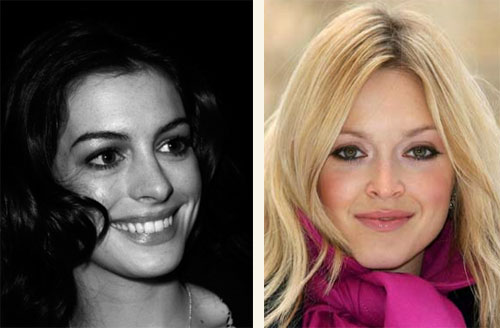 [Bit harsh on lovely Fearn! – Matt]
So we come to Nokia's 5800 XpressMusic. Despite the company's claims that this wasn't their response to the Apple iPhone (and, to be fair, Nokia did a full-touch-screen smartphone in 2004, the half-hearted 7710, two years before Jobs announced the iPhone), and despite the price difference (£220 versus £350), there are simply too many similarities to ignore.
So how does it feel to go out with Fearn rather than Anne? I've had both devices for a while and Matt Radford will be trying the 5800 shortly as well. To be honest, both devices have strengths and weaknesses, as you might expect, listed below for clarity. It has to be said that Nokia haven't done a bad job at making their existing S60 interface finger-friendly – it's easy to imagine how they might have really, really messed this up. One of the keys to their success here though is the phone width/form factor, in the average hand, held as a regular phone, your thumb can still reach almost all parts of the screen – meaning that it can be business as usual for S60, whereas the iPhone was designed, width-wise and interface-wise to be driven with a finger while holding the device in the other hand. Trying to use an iPhone one-handed is often a recipe for frustration.
Nokia 5800
Strengths
Weaknesses
Phone-like width and form factor Good 3 megapixel focussing camera with dual LED flash, VGA video capture at 30fps, quite decent as long as light is good enough

Landscape qwerty keyboard available on-screen in almost all applications

Base S60/Symbian OS now very mature, with plenty of under the hood functions that are add-ons on other platforms, including full multitasking of all apps and a full user-accessible file and folder system

Good base application set, including Web (Flash/YouTube-friendly) Nokia Maps (with real time voice navigation), Flickr integration, Podcasting, BBC iPlayer, multi-language Dictionary

TV-out, very loud stereo speakers, A2DP, Bluetooth keyboard support, microSD expansion beyond the supplied 8GB

Good battery life, 2-3 days

Resistive 3.2″ touch screen (no multi-touch, making typing slower, requires pressure and is fragile) No writing aids or auto-correction facilities. Occasional confusing changes in orientation

The addition of touch to S60 has meant a number of interface oddities, including a mixture of places where you single tap and where you have to tap to select and then tap again to go deeper

Poor baseline graphics performance, restricting the scope of games
Apple iPhone 3G
Strengths
Weaknesses
Large, 3.5″ capacitive touchscreen, excellent multi-touch Purpose-built, flexible, efficient and easy to use finger-friendly interface – no stylus needed

Very useable on-screen keyboard with auto-correction to compensate for inevitable miskeys

Good base application set, including Weather, YouTube, iTunes and Google Maps

Onboard App Store is open to all developers, meaning thousands of downloadable applications

Camera only 2 megapixels, no focussing or flash or video support Battery non-replaceable, memory non-expandable

Third party applications can't work in the background – only Apple apps can multitask etc.

No copy and paste support between applications, no user-accessible local files

Disappointing battery life
As can be seen from the table, it's impossible to pick a 'winner' outright, the range of strengths and weaknesses is simply too vast. It's only partially right to call the Nokia 5800 and iPhone 'competitors',  in the sense that they're both available in the same sort of phone markets. The differences in functionality and form mean that 'alternatives' might be a more accurate description.
What has been interesting to me has been this difference between one and two handed use, which ties inexorably into your own personal lifestyle. For example, with a bag of shopping in one hand or perhaps a briefcase, or maybe a child's hand, it's often not convenient to stop and free both hands just to check your Calendar. The iPhone isn't impossible to use one-handed, but this is an area where Nokia's thinner (in terms of frontal area) design pays dividends.
So that's Nokia's first direct response to the Apple iPhone. I'm sure there will be more throughout 2009, accompanied by Apple's own iPhone refresh in the summer, of course. Palm's Pre looks like an even more direct iPhone competitor, also with a ground-up OS, with the main threat being not market forces but Apple's legal team, I suspect(!) Google's Android, also ground-up, continues to go from strength to strength, but the underlying OS here isn't in the same class of maturity as, say, Symbian OS. Despite this, the forthcoming T-Mobile G2 again looks to go head to head with the iPhone.
Now, the evening beckons before me. Do I give Anne a call? Or Fearn? Am I allowed to take out both? (!)
Steve Litchfield, All About iPhone