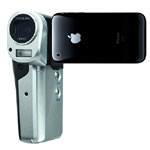 I had a dream on Friday night. Steve Jobs was giving the WWDC keynote address from a small fishing boat out in Weymouth bay. I can't recall ever dreaming about a Steve Jobs keynote address before, so I guess this shows just how far my excitement levels been ramped up these last few days, with or without Steve Jobs' presence. The reason for my excitement this time is because of one little rumour… the iPhone Video.

As the writer of Nokia Creative, I've spent a considerable amount of time over the last 3 years recording my life with Nokia's pocket rockets. Whilst the iPhone is a creative tool, few things can be as satisfying as snapping the perfect photo, or editing the highlights of your summer holiday video, all shot on a smartphone. In short, I miss out on that part of my daily life when I only have my iPhone with me. Sure the iPhone can take some great photos given perfect conditions, but it doesn't compare to the likes of the N95, N82 or the new N97. In my mind Nokia still make the best smartphones (I view the iPhone as a pocket computer) simply because so many of them have a superb camera.
But what if Phil Schiller and company take to the stage tonight and announce the much rumoured iPhone Video? What if it has autofocus? What if it has VGA resolution? What if it has a rock solid 30 frames per second frame rate? What if it has an effective video editing solution? What if it captures stereo sound? What if it has digital zoom that actually works? What if…
The truth is that most analysts are expecting the new iPhone to feature video capture in some form. Beyond that, nobody (outside Apple) actually knows the details.
My personal view on the matter is this. Apple left video capture out of the original iPhone spec because the hardware just wasn't up to the task. Some pint-sized stuttering video just isn't Apple's style, the company has far too much heritage in the video industry to just whack in some half baked video solution just to keep the geeks happy. Quicktime, Final Cut Pro and Shake are the primary tools of the video trade, Apple has a broad skill set to bring to bear on the tricky issue of pocket video capture and editing. I for one am expecting big things.
So then, if Apple do manage to crack the video nut with much the same panache as they did the pocket computer user interface or application development and distribution problem, what advantage would a Nokia, Samsung or Sony Ericsson device offer?
One thing is certain, they'll be a lot of crossed fingers when Phil Schiller takes to the stage later today. Some will be hoping for video capture, others will be praying for none.