I'm absolutely indebted to antshez for emailing me with this tip. Earlier today the BBC started sharing detailed data on iPlayer usage. They revealed that there were 79 million requests for on-demand and live iPlayer content in October 2009, of which a significant percentage – 7% or 5.5 million requests – were from the iPhone and iPod Touch.
You can download the Powerpoint presentation directly here, but for me, the most interesting thing is not the popularity of the iPhone platform in iPlayer statistics. The most interesting part is the graphic on the front page of the Powerpoint file, which shows a brand new interface for iPlayer on the iPhone.

All I really need to show is this image: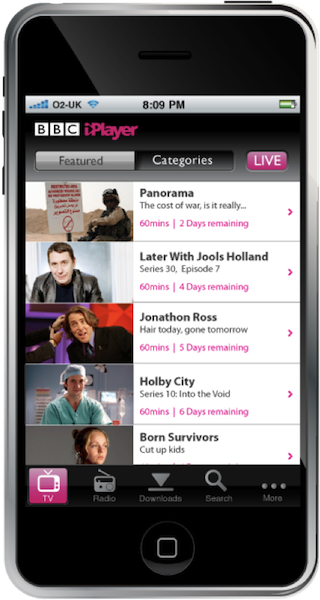 This is taken from the front page of the Powerpoint presentation. As you can see, this is an interface for BBC iPlayer that hasn't been seen before, and is quite different from the current web-based version.
The two big things here that are new are:
The ability to download programmes
The ability to watch live TV and listen to live radio
The screenshot shows an iPhone on O2, but using wi-fi, so it's unknown if this app will also work over 3G.
There's also some extra functionality, as you can see from this screenshot: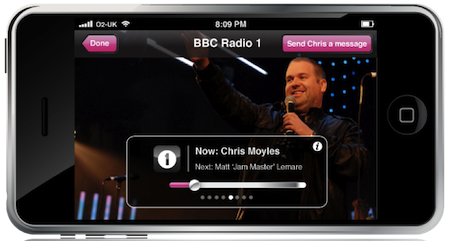 You can, if you feel like it, "Send Chris a message". That's a nice add on, and will save a few pennies for those who may currently text their messages to radio shows. There's also a small "i" button to get more information – but what sort of information? Show listings?
Although this could be a new app, none of this is necessarily new functionality for iPhone users. You can already listen to live radio via BBCStreams.com, watch live TV via TVCatchup.com, and (if you know what you're doing) even download shows via iPlayer. But none of this is built in to the BBC's iPlayer, and none of it will have such an impact as including it within a native application for the iPhone.
I have no details of when or if this will be released. I don't know if it's just a mock-up. But I do know that if the Beeb does release this app for the iPhone and iPod Touch, then it will immediately shoot to the top of the App Store as the #1 downloaded app. I can't wait!