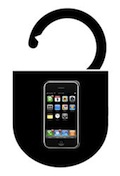 I've already looked at how to buy the cheapest officially unlocked iPhone in the UK, but what if you already have your iPhone?
If you've decided you either can't or don't want to use an unofficial unlock, such as ultrasn0w from the iPhone Dev Team, then that leaves you with one option: get it unlocked officially by a mobile network.
So what's the likelihood of that happening with the UK iPhone carriers?
First port of call is Apple's support page, "Locating iPhone wireless carriers". That's where I've cribbed this graphic from: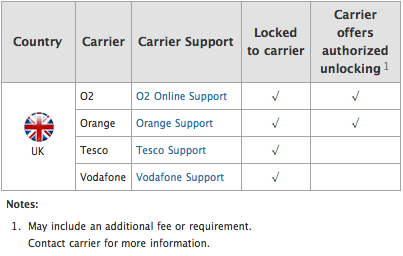 According to Apple, all UK networks lock their iPhones, with only O2 and Orange allowing unlocking. But that's not the whole story, as a little digging around their support documents and forums* has shown.
What won't they unlock?
To be clear, no UK network will or even can unlock an iPhone bought off eBay, or acquired from another network. If your mate got one free on an upgrade and he's on a different network to the one you want to use it with – you're out of luck.
Networks can only unlock iPhones which have been bought SIM-locked to their own network.
The Unlock Policies in Full
O2

O2 offer the best unlocking policy of any carrier in the UK, in my opinion, although the less said about their coverage the better. They clearly state what's allowed on their unlock page:
Pay Monthly customers can unlock at any time, with no charge
PAYG customers must pay £15. If it's less than 12 months after you bought your iPhone from O2, you'll lose your Web n Wifi bolt-on.
You can request an unlock via O2's unlock page, and it'll take up to 14 days to get your unlock approved.
Orange

Orange don't mention unlocking anywhere on their support website. Even a Google search of the Orange site only provides information on how to unlock the iPhone's screen. Not helpful.
But this Macrumors thread, which I've confirmed with Orange by phone, outlines their policy:
Pay Monthly and PAYG customers can unlock after the first 3 months of registering their phone with the network
It'll cost you £20
You can request an unlock via Orange Customer Services, and it'll take up to 10 days to get your unlock approved.
Tesco

Despite Apple's information, Tesco do offer unlocking.
According to their iPhone Help FAQ page:
Can I 'unlock' the iPhone and use it with another network?
If you wish to use Apple iPhone on another network we will only provide an unlatching code after 12 months or after the completion of any Pay monthly contract period.
There's no mention of any cost or time to provide the unlock approval.
Vodafone

As per Apple's support page, Vodafone don't offer unlocking in the UK – although they do in other countries, such as Australia. But perhaps that should read they don't offer unlocking at the moment.
According to two posts on Vodafone's eForum, an unlocking option may become available once the first iPhone contracts approach expiration. Vodafone eForum admin Trev_Vodafone posted the following:
I can confirm that our stance on unlocking iphones is as follows:

The iPhone can only be unlocked if the customer has purchased a 'box only' device without a Vodafone contract. This means that if you purchased an iphone, from Vodafone, with a contract we would not be able to unlock this device.
It was was confirmed previously by eForum admin MartinB_Vodafone that:
VF do not offer unlocking at the moment, they say that as the first contracts issued come to an end it 'may' be offered, but until then you are tied to VF.
There are no details on the cost, but for Vodafone in Australia, there is a few options:
iPhone less than 6 months old, unlocked online: AU$75 (£44)
iPhone less than 6 months old, unlocked by customer services: AU$100 (£59)
iPhone more than 6 months old, unlocked online: AU$25 (£15)
iPhone more than 6 months old, unlocked by customer services: AU$50 (£30)
Ouch! Let's hope Vodafone don't charge such prices in the UK, if they do allow unlocking.
The Real Picture
With all the little details taken into account, the actual unlocking situation is more like this:
| Carrier | Locked to Carrier | Carrier offers authorised unlocking | Unlockable during contract? | How much does it cost? (Pay monthly) | How much does it cost? (PAYG) |
| --- | --- | --- | --- | --- | --- |
| O2 | Yes | Yes | Yes | £0 | £15 |
| Orange | Yes | Yes | Yes | £20 | £20 |
| Tesco | Yes | Yes | No | ? | ? |
| Vodafone | Yes | Maybe | Doesn't look like it | ? | ? |
Anything else?
For an official unlock, you'll receive a text confirming the unlock has been approved. Then, connect through iTunes and Apple's server will authorise the unlock. If it doesn't happen straight away, then just wait a bit – your carrier simply hasn't got notification that your iPhone can be unlocked to Apple yet, or conversely, Apple has actioned the unlock request from your carrier. Patience grasshopper.
Also bear in mind: an unlock will occur every time you restore your phone, as iPhones are restored to a locked state.
If you're thinking of using your iPhone abroad, and want to get your it unlocked to do so – don't wait until you're at your destination. The first time you unlock, it can only be done through iTunes and on your home network. So once you're abroad, that's it!
(Although there's always the unofficial route!)
—
*Yes, I know the correct plural is fora, but give it up on that one.