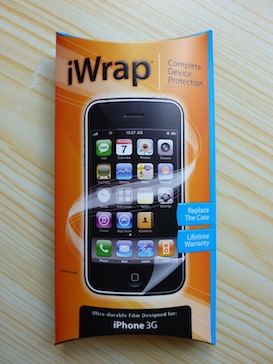 I've recently reviewed the Proporta Soft Feel Silicon Case and the VOi! Lorem. Lastly in this series of case reviews is the iWrap.
This is a totally different proposition – it's not a case, it's a plastic cover, but it goes over the whole phone. And you need to use adhesive to stick it on.
To be honest, I was a bit worried about what was going to happen to my iPhone when I took this review on.
The Details
iWrap is a plastic film that covers your whole iPhone. The manufacturer says that "iWrap is an ultra-durable scratch-proof film that covers your entire device and is virtually undetectable".
There are versions for all iPhones, iPod touches and the iPad, as well as other gadgets.
In the box, you get plastic films for the front and back, a bottle of adhesive solution, and a credit card-sized piece of hard plastic (the squeegee card) to smooth the films down.
Applying the Cover
Here's where I was a little bit nervous. Like most people I've never put adhesive on my iPhone before! You have to turn your phone off and wash your hands. I also waited until my iPhone was nice and cool around the battery, just in case it warped the film.
There are two sides to each of the films – an adhesive side and a non-adhesive side. Here's how you apply it to your iPhone:
Spray the adhesive side of the film with some of the solution from the bottle, thene, then position the film in place.
Slide the film around until it fits correctly, if need be.
After this, you spray the non-adhesive side (the one facing you, obviously) with some of the solution, and use the squeegee card to smooth out any bubbles. The instructions say this may take 30 minutes (!), but I was finished in five.
Wait. 30 minutes to an hour. You have to give the adhesives time to dry, and you have to handle your iPhone carefully for the next 48 hours.
Sounds a bit involved doesn't it? Well, yes it was, and also a little nerve-wracking. There's a How-To video on their website if you want to see it being done first. However, it turned out very well for me. The front application was easier than the rear, where I found that the edges didn't seem to stick down very well. But after a couple of days they settled in place.
By the way, none of the ports are covered by the film – they're all accessible.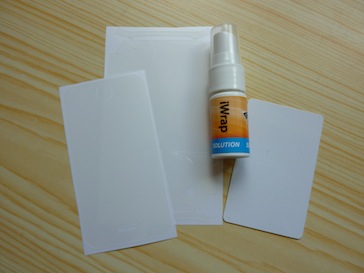 What's Good?
It's by far the nicest plastic film I've applied to any gadget. There's no disruption in terms of using the screen. It feels a lot more durable than any other protector I've used. But the main thing is that it feels like I'm just using the iPhone screen again, without anything in between.
On the back, the film imparts a tactile quality that is needed to stop me dropping my iPhone, while also stopping it from being scratched.
It also comes with a lifetime warranty.
What's Not So Good?
Apart from the delicate application process? One or two small bubbles remained on the back of the phone.
Anything Else?
I've just noticed that you don't have to buy the whole cover – you can now buy just the front or back films.
And – when you remove the iWrap, there's no trace of
Summary
I didn't expect to find myself recommending the product, but I can. It feels good to use my iPhone "nearly-naked" again, without fear that it'll get scratched or I'll drop it. The film is a bit of a pain to adhere to your iPhone, but once it's done, that's it. I was using my iPhone with just the iWrap for a few months, but I removed the back to try out some other cases. I'm now using my iPhone with the iWrap screen protector and the Proporta silicon case.
If you want to protect your iPhone without a bulky case, then iWrap may be for you. Even if you don't want the whole thing, the screen protector is better than any other I've come across.
iWrap
Price USD19.95
iWrap website
Thanks to Tim at iWrap for the providing the case for review.
Disclosure: iWrap is an advertiser on All About iPhone.