I've already reviewed the CoPilot Live satellite navigation app for the iPhone, which I found to be almost like having a whole extra gadget inside my iPhone. One of the commenters on that review suggested I take a look at Trafficmaster Companion, which integrates routing based on live traffic data.
This is a very different kind of satnav app – there are no maps included at all, and very few user-configurable options. The philosophy of this app is very different to the traditional, "do everything" satnav from TomTom and Garmin.
So in this case, is less more?
Before I start, I should point out that there are several versions of this app knocking around. When I was first given this app, only the lifetime subscription version (£24.99) was available. That app later went up to £34.99, and Trafficmaster introduced cheaper PAYG and Lite versions.
Now it seems there is only one Trafficmaster Companion version available on the App Store. The lifetime subscription has gone, and the app is now free to download. You have to pay per block of routes using in-app purchasing, namely
10 routes: £4.99
20 routes: £7.99
30 routes: £9.99
The free app does come with 7 days of free routing, so it's worth downloading anyway to give it a spin.
However, I have the lifetime subscription, so that's the one I'll be reviewing. The only difference between this and the current app is that I can't look at purchasing of routes.
First use
When you start this app up, you have to enter your phone number, so that the app can check your subscription status. This means that this app require a data connection – at least GPRS – in order to obtain (and update) your routing.
I wondered if this would put people off. One of the reasons I prefer to use a dedicated satnav app over Google Maps is that the latter requires a constant connection in order to update the map. However, if hasn't put me off, and I don't think it should put others off either. The amount of data required to update routing is minimal – it's only voice routing, not full map data that is downloaded.
Here's a short video walkthrough showing the main options of the app: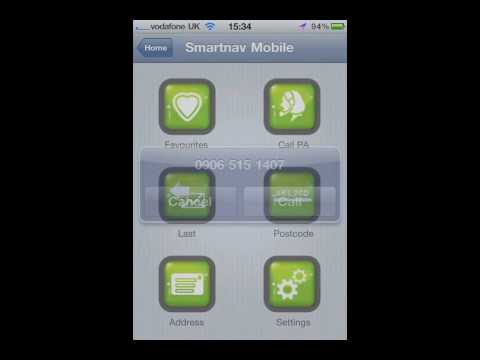 How to get route guidance
I've found the quickest way to obtain a route – if you don't have an address saved as a favourite – is to tap Satnav –> Postcode, and you're away. The voice routing will inform you that, "You have a route of x miles, which will take you on…", and it'll list the major roads, followed by an ETA.
There's one routing option that's unique to this app: the ability to call a PA. I was told to "be as vague as you like!" when calling the PA, in order to check how good they were. And I have to say, it's a good option when you have a hazy idea of where you're going, or don't know the detailed address or postcode. But it is £1.20 per minute to call, so I wouldn't hang around chatting to the PA about where you want to go. A little Google search may help pin things down initially, and avoid paying that high per-minute fee.
The options while you're on a route are fairly basic:
suspend/resume routing
clockwise arrow: re-read the directions to you
cancel routing
night mode
Lack of maps
As I mentioned at the start of this review – there are NO maps. It's all voice guidance. It's a satnav without anything to look at, other than distance and the next turn.
I was quite hesitant about this at first, but it has really grown on me. One of the things I liked about CoPilot Live is that the maps are detailed and you can see where you're going. One of the things I didn't like about CoPilot Live is that my eyes are drawn to the map constantly. Unless you're disciplined it's a distraction.
There's no such problem with Trafficmaster. I find myself ignoring the app, apart from when I'm approaching a turn, when I glance at it to confirm my turn. No maps means it's not sexy, it's not amazing to look at – but I've come to see that as an advantage. I'm much more focussed on my driving now, and there is enough audio guidance to get me to my destination.
Integration with your iPhone
It doesn't integrate much. I have all my addresses in Contacts, but there's no option to choose a contact as a destination.
The app has been updated since I received it to play iPod music, and it fades music when directions are being spoken. But there are no iPod controls other than double-tapping the home button to bring up basic overlay controls. You can't start music playback from within the app otherwise.
It also doesn't fit in with multi-tasking very well – if you get a phone call, the app will let you take the call, but then starts up again, checks your subscription and resumes the route – rather than suspending itself and starting from where it was. It needs an update for multitasking iPhones.
How good are the dierections?
I've found the routing to be quite good. As far as I can tell, this app plumps for the quickest route (rather than shortest), which means it tends towards the major roads. Consequently, it does take the long way round sometimes – for example, it added an additional 5 miles on a journey from Reading to Surrey compared to my usual route. But I was travelling at rush hour and didn't get stuck in any traffic. I think this is fine as I get the feeling this app is targeted at commuters and professional drivers.
If you do leave the route, the app will recalculate. I like the fact that it tells you it's recalculating the route, rather than the silent "we'll get you there how ever many wrong turns you take" approach of other satnavs.
What's Good, What's Bad?
It seems to lose the route fairly often, which I imagine is dependent on the location data it receives from the iPhone's GPS chip. This means the app goes on a bit about going to wrong way, even when you're not, and "re-routes" you – along the same route. The developers need to account for the lack of sensitivity in the iPhone's GPS. But I have noticed that the GPS lock stays a lot better with my iPhone 4, which has a better GPS chip than my iPhone 3G.
I've noticed discrepancies between the Estimated Time of Arrival that's spoken, and the time that's displayed – the time displayed is often 5 or so minutes ahead. Also, if the time is after midday, then the ETA that's spoken is always indicated as "AM", even though it's PM.
I also noticed a slight discrepancy in distance on one route I measured – my car registered 106 miles, whereas Trafficmaster stated 108 miles. Which is a bit picky and makes not a jot of difference.
More importantly, the first time I used the app, I was off to Heathrow Terminal 5. I entered the postcode from BAA's website – TW6 2GA – but Trafficmaster could not find it.
There are no Points Of Interest built in. You do need to know the address or you'll be calling the PA.
As I mentioned, it's light on user-configurable options. For example, there's no option to switch to kilometres as units. You can choose to avoid motorways, and change the interval that the app checks the traffic from 1 minute to 5 or 10. You can see this as an advantage or disadvantage, depending on how much you like to tinker with settings.
On the plus side, Trafficmaster Companion seems to be very light on memory requirements compared to more graphical satnav apps, and so is suitable for even 1st generation iPhones. It's very quick to start up, and doesn't lag.
I also quite like the fact that the app recognises if you're moving when you start using the app, and will ask you if you're the Driver or the Passenger, in order to check that it's safe to use the app.
Overall
There are some things that need work to polish this app up. Better integration with the iPhone's address book and music capabilities would be welcome. I'd like to see the the discrepancies between the ETA as spoken and displayed sorted out too.
I was very surprised that the app couldn't find Heathrow T5, but I haven't had any similar difficulties since.
One additional piece of information I'd like spoken to me is traffic incidents – if I need to be re-routed, or I've been routed based on a minor or major incident, I'd like to know about it. Otherwise there is some uncertainly about why Trafficmaster has routed you a particular way.
But in general, I like the model of Trafficmaster Companion. I now use it for most of my journeys. I feel that it will get me there in good time (if not necessarily on the shortest route). But more importantly, I feel safer driving with it as it's largely distraction-free. It does the job and gets out of the way.
I'd happily recommend you try this app, especially now that 7 days of free routing is bundled in with it.
Thanks to Trafficmaster for providing the review copy of this app.
Trafficmaster Companion
Version reviewed: V1.6
Category: Navigation
Developer: Trafficmaster PLC
Current Price: Free, with free routing for 7 days. Additional routes via in-app purchase.
Platforms: iPhone (version reviewed), iPod Touch, iPad
UK App Store Link