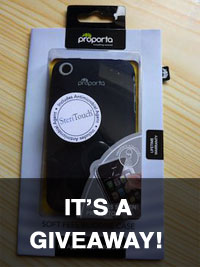 I've recently reviewed some more different cases and covers for the iPhone:
Pro/Tec's battery-charging Energy, and their soft leather Executive, as well as Griffin's elan form.
Well, the Griffin's already been snaffled by a mate (sorry!), but I'm going to give the two Pro/Tec cases away. However, I do have another case knocking around which I'll throw in.
So, the cases I have to offer are:
1 x Pro/Tec Executive leather case, for iPhone 3G or 3GS
1 x Pro/Tec Energy battery-charging case, for iPhone 3G or 3GS
– unfortunately I can't find the mini-USB lead for this, so you'll have to get one yourself. They're fairly inexpensive though.
1 x black VOi! Lorem case for iPhone 3G (8GB or 16GB)
All you have to do is either post a comment below, or retweet this post using the Tweetmeme button. The giveaway will close on Friday August 11th at 5pm, after which I'll randomly choose the three winners.
I'll post the cases anywhere in the world, so it's open to all.
UPDATE: This giveaway has ended, and I'll be in contact with the winners shortly.