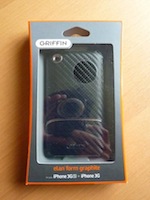 I've already looked two cases for the iPhone 3G & 3GS from Pro/Tec – the Executive and Energy.
The final case I was given by Memory Card Zoo was the Griffin elan form graphite. I thought it was a bit bling, but gradually warmed to it.

Details of the case
It's a black hard shell polycarbonate case. It feels well put together, and pretty tough. All the controls are exposed, if a little recessed. The back is slightly blinging: it's overlaid with leather, and has a mottled, snakeskin-style emboss. It makes the case pretty easy to grip.
The difference with this case is that is comes apart into two pieces. Griffin have recognised that people like to be able to dock their iPhones, so the bottom is removable ("EasyDock"). Smart.
Anything else?
Nope, it's pretty straightforward!
What's Good?
It's a solid case. It takes a few knocks, and my iPhone survived a few drops on the floor.
What's Bad?
Some grit must have got into the case when I put it on, as there are some scatches on the back now.
Summary
I used this case for a few months. It's really nice, not flimsy at all. It's a bit "subdued bling", if you get my drift, but it really grew on me.
Griffin elan form case
Price: £13.95
Griffin's website
Thanks to Adam at Memory Card Zoo for providing a case for review.