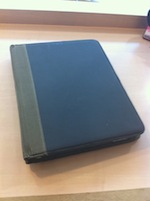 We've reviewed Proporta's cases (and other equipment) for the iPhone before, but they now have a new range for the iPad. They've sent me a couple of cases, and the first one I'm looking at is their Recycled Leather case.
Details of the case
As the name suggests, this folio-style case is made of recycled leather, and is complemented with a green fabric covering and stitching. The iPad slides in nicely to a black leather holder, which provides a snug fit. All of the controls and the dock are exposed.
It does add a bit of bulk to your iPad, but not so much that it hinders operation.
The inside cover has an elasticated holder for a pen, and also fabric pocket, which comfortably holds my small notepad. There's also a strap above the pocket, which I assumed was to keep things secured in the pocket.
Anything else?
Boy, was I wrong about the strap. I'd had this case for about 6 weeks before I thought, Hmm, this strap comes undone, and there's a popper on the back… Wait a minute!". I folded the strap around the back, and turned the case into a stand. Altering the spine allows for two angles in which to position the iPad, one of which I've found ideal for writing with a Bluetooth keyboard. I should have noticed this from their website!
What's good?
The case feels durable. The leather gives it an air of sophistication, and it doesn't immediately scream "Mug me, I'm carrying an iPad!".
What's bad?
I find it a little hard to keep Apple's Component AV cable connected – it's just a bit big compared to the dock opening, and I have to keep nudging it back it. Other than that, a normal Apple dock cable fits very nicely.
The rotation switch is slightly harder to operate, so it requires the thumbnail to flick it to the lock position.
Overall
It's quite a bookish case, but I quite like that. It's very well made, but then you'd expect that for £35. Then again, I get the impression it'll last as long as my iPad. Sorry, but I won't be giving this one away!
Proporta Recycled Leather case
Price: £34.95
Available from Proporta
Thanks to Rosie at Proporta for providing the cases for review.