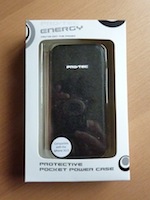 I've already looked at Pro/Tec's Executive leather case, and now I'm moving on to their Energy case, which contains a battery to keep your iPhone going.
I've never tried one of these recharging cases before, so let's see how I got on.

Details of the case
It's a hard black plastic case with a protective front flap. All the controls are accessible, and there's a hole for the camera lens. The dock port, speaker and microphone are hidden away at the bottom of the case. There are two small holes, one in the front and another in the back, to allow sound to travel to the speaker and mic.
The plastic on the back housing the battery is really solid, and I'm sure will take an impact. Inside the front flap is a soft suede lining, so your iPhone's screen won't get scratched.
Pro/Tec claim that this case will extend standby up to 300 hours, with talk time of 8 hours. This is compared to iPhone 3G's average talk time of 5 hours. The battery inside is 1330mAh.
The combined weight of iPhone and the case- 235g, compared to the naked iPhone 3G's 135g. At its maximum thickness, it's 23mm.
Anything else?
It comes with a mini USB cable for charging the battery. There's a light on the bottom-right hand corner of the case with a light to indicate the charging state: Green = charged, Amber = pre-charging, Red = charging in progress.
What's Good?
Well, it extends your battery life quite a bit – it gave me almost another full charge, delivered over 2-3 hours. You can also charge your iPhone while the mini USB cable is connected to the case.
What's Bad?
I found it hard to operate the power, ringer and volume switches as the hard case gets in the way. There's also the question of bulk and weight – it adds a lot to the bulge in your pocket.
I had to keep pushing my iPhone 3G down so that the connection could be made to the dock at the bottom. It was quite frustrating. It was a bit easier once I took my screen protector off.
Summary
It really felt like a holding a massive tricorder. "It's a brick, Jim!" IF you really need the extra power, then it's another well made case from Pro/Tec. But it does come with some drawbacks in trying to operate your iPhone. I can see the appeal for some, but it's not for me.
Pro/Tec Energy case
Price: £39.48
Pro/Tec website
Thanks to Adam at Memory Card Zoo for providing the case for review.