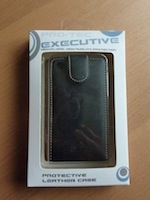 I have a few iPhone 3G / 3GS cases left over to review, so I'm going to write them up then give them away!
First up is the Pro/Tec Protective Leather case.

Details of the case
It's a pretty solid-feeling and well-made case. It's made of very soft leather, black on the outside and beige inside. The stitching is high quality, and the clasp is magnetic, so it stays shut. Inside the iPhone is held in place by a really solid plastic holder, into which the iPhone slides smoothly.
Most of the controls are easily accessible, and there's a hole in the back of the case for the camera lens. You'll have to take the phone out if you want to place it in a dock.
Anything else?
On the inside cover there's a small stitched slit that fits a single credit card. So if you travel without cash, you could conceivably ditch your wallet.
It comes with a screen protector and cleaning cloth.
What's Good?
The case offers good protection, and you can tell it's a classy piece of merchandise. I haven't come across any nicer examples of this sort of case.
What's Bad?
With the case closed, the speaker was muffled, so it made it a little harder to hear incoming calls and texts, but not so much that I missed any.
The leather front piece doesn't go flat, so you may find your chin being tickled by the clasp!
Summary
My iPhone 3G fits snugly into this case, and it feels well protected all round. i'm not really one for flip-style cases like this, but if I was in the market for one, I think this would be a good choice.
Pro/Tec Executive case
Price: £14.50
Pro/Tec website
Thanks to Adam at Memory Card Zoo for providing the case for review.