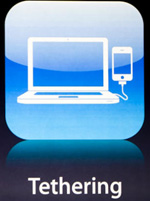 Are you all upgraded to iPhone OS 3.0 now? Good. Then you're probably aware that the new firmware allows you to tether; that is, use your iPhone's data connection to provide internet access to a computer (via Bluetooth or USB). It's been possible to do this for quite a while on jailbroken iPhones, using apps such as PDANet, but to be honest the experience has always been slow and flaky. Having it built into the iPhone's own operating system makes a lot more sense.
What doesn't make sense is O2's pricing. If you want to tether, O2 would like £15/month for 3GB or £30 for 10GB. That's a lot of money, especially when you compare it to say Three's offer of £15 for 15GB/month. And also when other phones can effectively tether for free without having to pay O2 extra.
Wouldn't it be nicer to tether easily for free? Of course it would, and you can. But be aware – I believe O2 are able to monitor unofficial tethering with little effort.

O2's Ts and Cs
Tethering is against O2's terms and conditions, even when you buy the Web Bolt On. Here's the relevant part of the agreement:
The Web Bolt On allows you unlimited use of Telefónica O2 UK Limited's Edge/GPRS/ 3G networks (as applicable to your handset), for personal internet use via your mobile phone. All usage must be for your private, personal and non-commercial purposes. You may not use your SIM Card:

in, or connected to, any other device including modems;
to allow the continuous streaming of any audio / video content, enable Voice over Internet (Voip), P2P or file sharing; or
in such a way that adversely impacts the service to other O2 customers.

If O2 reasonably suspects you are not acting in accordance with this policy O2 reserves the right to impose further charges, impose network protection controls which may reduce your speed of transmission, remove the Web Bolt On from your account or disconnect your tariff at any time, having attempted to contact you first.
So tethering is not allowed on any phones, unless you specifically buy the Tethering Bolt On. But I know a few people who do it occasionally, and I'm sure you do too. However, I believe that usage of tethering from other devices has been so low, that it hasn't impacted O2's network. What concerns them with the iPhone is just how easy it is to use it to provide tethered internet access.
So much so, that they released this statement to Techradar:
Any use of this particular feature without the purchase of the Bolt on is specifically prohibited under our terms of service. Under those terms we reserve the right to charge customers making modem use of their iPhone or disconnect them.
So, just to be clear – you're not allowed to use tethered data on O2, whether you're using an iPhone or any other phone, unless you buy the Tethering Bolt On.
Enabling tethering unofficially
Ok, legal stuff out of the way. You've decided to stick two fingers up to O2's terms – and go with the interpretation that you've signed up an iPhone tariff that includes unlimited data. Enabling tethering is very easy – just surf along to help.benm.at on your iPhone, and install the correct MobileConfig for Pay Monthly. There seem to be two for O2 – and I've read reports that both work. You can also visit www.iphone-notes.de/mobileconfig/, which has MobileConfig files for Pay As You Go customers.
You shouldn't need to reboot – tethering via USB or Bluetooth should now be active. Hooray!
Oh, and did I mention? No jailbreak required!
O2's all seeing eye
So now you're ready for free unlimited data for your computer? Well not quite. As O2 also said to Techradar:
We have ways of monitoring the data our iPhone users are consuming
When it comes to tethering unofficially, the main question I keep being asked is: "But how will O2 know whether I'm using the data connection on my iPhone or via my computer?"
O2 are able to keep tabs on data used by iPhone customers in two ways – one quite simple, one a bit more complex.
(1) Simple
They don't need to know the difference.
If you tether unofficially, and your data usage skyrockets, then you're probably tethering. O2 don't even care that you do tether – it's the impact on the network that concerns them. So if you start using an awful lot of data, you'll fall foul of their excessive usage policy and get a nastygram.
(2) Complex
They can figure it out quite easily via the Access Point.
On Techradar, O2 said that:
Those that use internet tethering legitimately on the iPhone 3G and 3G S will still be using the same data servers as their illegitimate counterparts…
Or in another words, those with the Tethering Bolt On use the same Access Points as both those tethering unofficially and those not tethering at all. This is confirmed if you install MobileConfigs from help.benm.at – the AP doesn't change. It just enables the tethering option on your iPhone.
O2 could quite easily retro-fit their existing Access Points with software to monitor usage more closely. For the specifics, I asked the iPhone Dev Team (who created the jailbreak and unlock tool Pwnage) how they would go about it. Their answers:
If we were going to design it, we'd have a special APN with layer 7 analysis equipment checking user-agents etc

…transparent proxy, RADIUS/DIAMETER logs and a perl script could identify the naughty users
Put simply, everything you send across O2's network is in plain sight to them.
They can view any data traffic except that which is SSL-encrypted. O2 could quite easily adapt the existing Access Point to monitor, for example, web browsers that use that access point. If you don't have the Tethering Bolt On and the logs show that you're browsing the web with, for example, Internet Explorer (which will identify itself through the user-agent), then it's pretty obvious that you're tethering unofficially.
It doesn't have to stop at web browsers either – there are plenty of other applications that can't be installed on the iPhone, which could show up your data usage against O2's terms.
Applying an eye patch
So is there any way of keeping O2 from seeing your data? Oh yes, and it's summed up in three letters: VPN.
A Virtual Private Network on your computer will provide an encrypted tunnel for your computer, rendering any monitoring by O2 useless. There are quite a few free ones available (including AnchorFree) and anonymous ones, such as Relakks.
But even if O2 cannot see that you're tethering without their permission, they can still see excessive data consumption. So my advice, if you choose to go down this route, would be to keep the usage low. I think that if you use tethering as an occasional backup, then O2 are unlikely to complain.