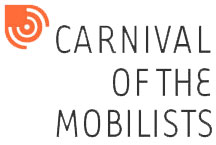 You know that warm, cosy feeling you have on a Sunday night when you've had your dinner, the kids are in bed, and you've just sat down to watch some TV? And then you realise you've forgotten this week's Carnival of the Mobilists?
So, like the plot of the bad Steven Seagal movie I'm watching, this has been hastily-written. But don't let my rush to write this article stop you from reading this week's excellent submissions at leisure.

BRAND FOCUS
We begin with Andy Favell, who asks: Do brands want better targeting than most mobile ad networks offer?
Is cheap and effective ad placement (from the likes of AdMob) suitable for some brands, whose ads may end up on undesirable sites? For example, I saw an ad for O2 the other day within Cydia (the unofficial iPhone app store for jailbroken iPhones) – the only problem being that O2 prohibits jailbreaking in its Terms and Conditions #WhoopsAdFail
Read Andy's article at mobiThinking: http://www.mobithinking.com/blog/brands-want-more-targeting-from-mobile-ad-networks
With the news from the US that Sprint has bought Virgin, Nan Hickman wonders Can Sprint put Virgin on a Better Platform Yet Maintain its "Virginness? Will this purchase inevitably lead to a diminution of the Virgin brand, which is so dependent on the customer service experience?
Read Nan's article at Open Strategies: http://nanhickman.com/?p=97
Getting more personal, Tom Godber reveals that mobile carriers are quite capable of messing up their own customer communications, thankyouverymuch. In Orange Customer Communications – the Ups and the Downs, Tom attempts to understand a simple message from Orange, with helpful tips along the way for non-Londoners and other assorted Johnny Foreigners.
Read Tom's article at masochismtango: http://masochismtango.com/2009/08/05/orange-customer-communications-the-ups-and-the-downs/
SHIFT HAPPENS
Chris Messina half-believes that Steve Jobs hates the App Store. Why would he hate his own creation? Because it's merely a stepping stone to a freer, interoperable digital nirvana. I can see where Chris is coming from – there's a gradual shift happening to the cloud, but does Jobs really hate apps? They provide a better experience than web apps right now. And Steve's all about right now. Later can be taken care of… later. This is deliberately provocative, and well worth a read.
Read Chris's article at FactoryCity: http://factoryjoe.com/blog/2009/08/01/steve-jobs-hates-the-appstore/
In a similar vein, does Palm dislike their own app store, or at least the pricing? Tam Hanna reveals a tidbit in Palm: we don't want 99 cent apps. What are Palm's options in the mobile application game, and how do they intend to keep prices above the floor?
Read Tam's article at Tam's Palm: http://tamspalm.tamoggemon.com/2009/08/09/palm-we-dont-want-99-cent-apps/
Chetan Sharma has the latest US Wireless Data Market Update – Q2 2009. It's crammed full of interesting analysis, for example:
The App vs. Mobile Web discussion reached a surprisingly new crescendo. The evolution is pretty clear – for the applications that don't require significant UI resources, it will be better to develop in for the browser, for intensive games, the native platform will be ahead of the browser advances. The location API access on the iPhone browser is breakthrough to have developers start thinking about the webapps.
This is especially interesting to me in light of the previous article from Chris Messina, on the App Store as a stepping stone. Read Chetan's article at Always On Real-Time Access: http://www.chetansharma.com/blog/2009/08/08/us-wireless-data-market-update-q2-2009/
Ajit Jaokar tackles the perceived move of mobile development from Europe to Silicon Valley, in Is Europe losing its competitive edge in mobile? Innovation and the mobile wealth of nations. This article really spells out why it's not Nokia v Apple, it's not Apple v Android, nor is it the Valley v the rest. It's a comprehensive debunking of the "x platform is going to be triumphant" mentality. And as such, it's my POST OF THE WEEK.
Read Ajit's article at Open Gardens: http://opengardensblog.futuretext.com/archives/2009/08/is_europe_losin.html
HOW SMART?
Steven Hoober tackles the old "what is a smartphone?" question in Smartphone is a state of mind. Do people want smartphones or do they want that feature? I'm thinking specifically of the new INQ Twitter phones. You can't install extra apps, but these are cheap phones with plenty of smartness, depending on your requirements. Perhaps "smart" is the way people use them.
Read Steven's article at Little Springs Design: http://www.littlespringsdesign.com/blog/blog/2009/08/04/smartphone-is-a-state-of-mind/
Going to perhaps the other end of the spectrum, Antoine Wright wonders about Mobile Web Server 2.0. This is also the only article actually served from a phone, running a mobile web server. OMA MWS on a SIM anyone? Is this all getting just too complex for the average phone user?
Read Antoine's article at: https://arjw.mymobilesite.net/.py?application=blog&action=6&id=561
AND FINALLY
There's life in the old dog yet! Holly Kolman writes to mention that there's a Microsoft Mobile Development Training Camp (WinMoDevCamp) coming up on August 19th.
Read Holly's article at mobiEnthusiast.mobi: http://mobienthusiast.mobi/microsoft-mobile-developer-camp-modevcamp
Plus, Steve Litchfield is Prepared for Power – However it Comes! Just how many chargers does the head geek need to pack for his family's gadget requirements while on holiday? But solar power, in the UK? Surely you kid Steve?!
Read Steve's article at All About Symbian: http://www.allaboutsymbian.com/features/item/Prepared_for_Power-However_it_Comes.php
NEXT WEEK
The Carnival comes to rest at MobileStance. Thanks to all the contributors, and see you there.