This isn't so much an app review as an excursion into the hinterland of the unfinished iPhone user interface. There are always tweaks – and sometimes wholesale changes – to be made to an operating system's interface. But on mobile devices these changes face higher scrutiny, as there are usually more constraints on the end-user being able to install workarounds to better suit their preferences. This is especially true on the iPhone and iPod Touch.
So this is a look at an app that provides a different way of navigating your iPhone, borrowing from Exposé and Spaces on the Mac's OS X. But, because it radically changes the method of switching between pages of apps, you won't find it in the App Store. This one is jailbreak only.

I've been following recent articles about the iPhone user interface, from the founder of the Apple Human Interface Group – Bruce Tognazzini – and a response from Lukas Mathis (via Daring Fireball). Both of the these articles focus on how best to develop the iPhone user interface, as its complexity and use-cases increase. Mainly, it's about navigation, and managing potentially hundreds of applications on a small handheld device. It's a problem that Steve Litchfield has written about before on All About iPhone.
Apple only allows eleven home screens, which equals 160 apps in total. There are currently three ways of navigating to these apps:
Swipe across the screen
Touch to the left or right of the small dots above the Dock
Use Spotlight to type the name of the app
(With iPhone OS 3.0, Apple actually allows you to install more apps than you can fit on the eleven home screens, but these are only accessible through Spotlight – if you can remember what the app is called.)
Although I argued before that on-device search is a necessity, I've found that I don't actually use it much from the Spotlight interface; I tend to use it more within applications that support search, such as Contacts. So, I usually swipe to get to my apps. But if I'm looking to launch a little-used utility that I've hidden away on screen 11, then I'm looking at possibly 10 swipes to get there, provided I can remember what screen it's on. Surely there's a better way?
Enter Orbit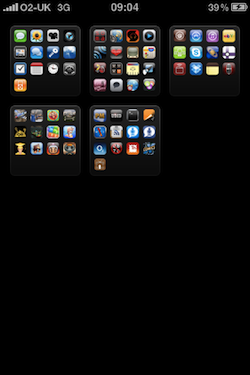 On Macs, you can use Exposé and Spaces, which give you a visual overview of open apps and virtual desktops, respectively. Orbit (from developer Steven Troughton-Smith) gives you something very similar. By tapping the icon, it shows a small preview of each of the home screens. Tapping on a screen preview will take you to that home screen.
And that's it. It's a simple idea, and well executed. There is the occasional tiny lag in drawing the preview, but we're talking a split-second delay rather than anything grating.
Orbit does takes some getting used to, because it's a new way of interacting with your iPhone. For all the finger-swiping to get to that last screen, I'm very used to it now, and it's pretty quick.
Is it worth using?
I do wonder if this is a solution that many people will need? I only have 5 or 6 home screens populated at any one time, even with all the review copies of apps that come my way. I choose to manage the complexity of my iPhone by keeping complexity *off* the device. But for power users with their phones chock full of apps, I can see that this could be very useful, especially if you combine it with one of Steven's other apps, Stacks (think folders but with a visual preview).
The only downside is that the app has to take up a precious space in the Dock to be usable. I suppose you could put it on the home screen – then it would only be an extra push of the home button (plus the tap to launch the app) away. But it feels to me that this shouldn't be launched like an app – it should be built into the system and invoked in a different way, perhaps a gesture on the screen, or a pull-down on the status bar. I see from comments on Twitter that the developer is considering adding the abililty to modify the home button to launch Orbit.
I'm not sure if Orbit will stay on my iPhone. I only have 5 or 6 home screens, so swiping is pretty quick, and Orbit feels like overkill. But I can see it absolutely appealing to power users. And as our mobiles become increasingly difficult to manage, we need innovative ideas such as this in order to keep up.
(A big thank you to Steven for the pre-release copy of the app).
Orbit
Version reviewed: V1.0
Category: N/A
Developer: Steven Troughton-Smith
Current Price: US$1.99
Works on: iPhone & iPod Touch
Cydia Store link