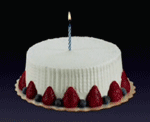 All About iPhone launched a year ago today. Since then we've gone from zero to almost 15,000 visitors a month.
This is thanks to the hard work of our contributors – Steve, James and Jim. Many thanks to them. And thanks also to you, our readers. I hope we'll continue to bring you interesting stuff in the future.
If there are any improvements or changes you'd like see, do drop us a line.
Thanks and best wishes,
Matt