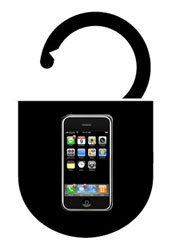 I've already written articles about getting the cheapest iPhone on O2, Orange and Tesco Mobile. But all these operators sell their iPhones locked to their individual networks. What if you want more freedom than that? What if you want to use two different SIMs, or simply want to switch to local network when you're abroad?
You could pay an eye-watering amount buying an officially unlocked one imported on the grey market from Play.com. The 16GB iPhone 3GS will cost you £715.99 (with free delivery!). Or, you could take your chances and buy an iPhone from eBay. I just watched an auction end for an unlocked iPhone; a 16GB 3GS went for £470 plus £6.99 postage – saving £239 on Play.com's price. Not bad. However, the seller said he had "opened the box to unlock", indicating that it's probably unofficially unlocked using the iPhone Dev Team's fine work on their ultrasn0w unlocking software. So that means you'll have to update your iPhone using a jailbreak tool and custom firmware everytime – or to put that jargon-free – no easy software updates from iTunes.
So here's an easier and cheaper option to buy an officially unlocked iPhone in the UK.

Buy it from O2
WHAT? You're joking, right?
Nope. Thanks to a tweet from Ross McManus, I found out that O2 have changed their policy on unlocking Pay As You Go iPhones. You now don't have to wait 12 months to request an unlock – O2 will activate your iPhone for unlocking within 14 days.
You'll have to activate an O2 PAYG SIM with your new iPhone, and pay £15 to get it unlocked, but you can keep extra expenditure on top of the iPhone purchase cost to a minimum by following the instructions below.
Here's how you do it
Buy £15 worth of top-up, and activate your PAYG SIM – BUT DON'T SPEND ANYTHING ON IT!
Request an unlock from O2 here: http://shop.o2.co.uk/update/unlockmyiphone.html
Ask that that they use the £15 balance on your O2 PAYG SIM for the unlock fee (sneaky…)
Mutter impatiently for up to 14 days
Get the text from O2 confirming you can unlock
Connect to iTunes and your iPhone will be unlocked!
And that's it! One unlocked iPhone, yours to use on any network!
Technical side note: iPhone unlocking works differently to other phone unlocks. Apple holds a database of IMEIs of iPhones that are eligible to be unlocked. So: O2 requests Apple to add your IMEI to the database, sends you a text effectively confirming that they've done that, and then when you connect to iTunes, Apple activates the unlock.
So the total cost is…?
At current O2 prices:
8GB iPhone 3G – £349 to buy + £15 top-up = £364
16GB iPhone 3GS – £449 to buy + £15 top-up = £464
32GB iPhone 3GS – £549 to buy + £15 top-up = £564
Savings vs Play.com's grey market iPhones:
8GB iPhone 3G – £459.99 to buy from Play = £95.99 saved
16GB iPhone 3GS – £719.99 to buy from Play = £251.99 saved
32GB iPhone 3GS – £819.99 to buy from Play = £255.99 saved
Any drawbacks?
The only negative point is this – if you choose to unlock and continue using your O2 PAYG iPhone SIM, they will remove the bundled 12 months of unlimited Web and Wifi usage. But that's not a problem if you're planning on using an operator other than O2.
Conclusion
Rather than buying an unofficially unlocked iPhone from an eBay seller, you can now buy one direct from an official provider, officially unlock (thereby enjoying easy software updates through iTunes), and use whichever mobile network you like. And, compared to paying for a grey market import from Play.com, you'll save money!
Happy New Year!