Last week, Erik Huggers presented at Mobile World Congress and disclosed that the BBC is developing three iPhone apps: for News, Sport and (potentially) iPlayer. According to the Beeb's Technology Correspondant, Rory Cellan-Jones, developing these apps has taken a while because of a "complex legal problem".
Well, despite that and any objections being raised by other media organisations (*cough*), the News and Sport apps are being developed by MobileIQ – here's their press release about it. There's no details available about who's could be developing the iPlayer app – although it has been reported that the Beeb has already shut down development of a non-sanctioned iPlayer app from Camiloo.
I've delved through all the BBC's websites, Tweets, and anything else that I've seen posted on the new apps to give you a summary of what's coming.

The News and Sports apps are going to be "socialized", enabling easy sharing of content with friends and via social networking sites.
BBC News app:
There will be two versions of this app: one for the UK, and one for a global audience (meaning it will have ads).
Features
Breaking news, updated throughout the day
Personalisation – the ability to create a personal news experience
User-generated content – the ability to send comments and pictures direct to the newsroom
BBC Blogs, analysis and commentary
Local, National and International stories
Video and audio content from the BBC News channel and other BBC sources, including news podcasts
Live BBC News TV channel (UK only, I'd imagine)
Offline caching of content (according to the PR people for MobileIQ)
Release Date
I've embedded a demo below, which I've enlarged from the BBC's site. It's clickable (but your mouse pointer will disappear) and each click will show off further features.
Questions
What sort of personalisation will be allowed? For example, the Guardian's iPhone app allows you to choose sections of the newspaper you'd like on the front page of the app, categories, authors and podcasts you'd like to automatically download.
What sort of content will be available offline? Hopefully this will be at least text and audio podcasts. A version of the BBC News available offline would be excellent (but unlikely).
Is there any chance of the BBC News TV stream being available outside the UK?
BBC blog postings about this app:
http://www.bbc.co.uk/blogs/theeditors/2010/02/bbc_news_on_iphone.html
BBC Sport app:
Again, there will be two versions of this app: one for the UK, and one for a global audience, with ads.
The first version of the app will focus on the upcoming World Cup, then other major sports such as Formula 1 and the Premiership for 2010/11. This does leave other sports out in the cold a bit, but the app will continue to be developed to show a broader range of the BBC's sport output.
Features
Live text commentary with distinct BBC voice
Listen live to Radio 5 Live commentary
Receive up-to-the-minute scores and league information
Participation: integration with 606, and the BBC sport blogs
User-generated content, submission of comments via SMS
Video and audio content: integration with Radio 5 Live, plus video clips (subject to rights availability)
Personalisation: selection of your teams and clubs
Live streaming of World Cup 2010!!! (UK-only I'd imagine)
More on the World Cup video: a live stream will be available whenever it's being broadcast on TV by the BBC. Clips of every goal scored will be available on demand clips. That sounds superb.
Release Date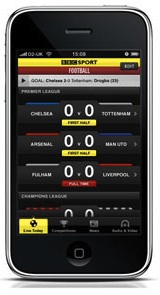 Questions
Will Radio 5 Live audio streaming be available outside the UK?
When will sports other than football start to get a look-in?
BBC blog postings about this app
http://www.bbc.co.uk/blogs/5live/2010/02/5-live-news-and-sport-on-your.shtml
(and the big one…)
BBC iPlayer app
Features
Live TV and radio
Improved user experience: enhanced interface using the latest app gestures and transitions
New personalisation features
Release Date
Unknown. This app is still under consideration, as far as I can make out.
Questions
Oh, plenty.
Can content be downloadable (as with the Symbian iPlayer application), or just streamed?
Will content be available over 3G as well as Wifi?
Are the BBC's podcasts included? (probably not, the main iPlayer site doesn't)
Are local radio stations going to be included? All the local stations are available on the main iPlayer site, but not on the current iPhone version.
What does this mean for the existing iPhone iPlayer site? Will it continue? This could present a problem to those of us who like to download shows, as it could close the H.264 streaming "hole".
The fact that the Beeb want to include live TV and radio makes it a significant step up over the current, web-based iPhone iPlayer site. However, the Beeb has mentioned that they will be trialling the Android iPlayer app using Adobe Flash Player 10.1 streaming. Seeing as the iPhone doesn't support Flash, what does this mean for the iPhone iPlayer application? At this stage, it's anyone's guess.
BBC blog postings about this app
http://www.bbc.co.uk/blogs/bbcinternet/2010/02/bbc_mobile_apps.html