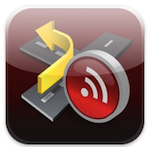 At the start of the year I reviewed CoPilot Live for UK and Ireland from ALK Technologies.
When I first started using the app I found it a little complex, but since then I've figured it all out and have come to rely on it for my navigation needs whilst driving. Plus the US version of the app – which I've just noticed is only £2.99 right now (bargain!) – seriously helped me get around while on holiday this summer

So I am very pleased to let you know that i have three copies of CoPilot Live available to give away!
CoPilot Live works on iPhone, and on iPod touch with an external GPS. You can also get CoPilot Live HD for iPad for Europe and North America. It's one of the top grossing apps on the UK App Store, and normally costs £19.99 (or €19.99 on the Irish App Store).
Check out the main features:
choice of mapping options: 2D, 3D and Driver Safety mode (this provides just a direction arrow and next turn instruction for the minimum amount of driver distraction, which is the option I use most)
voice guided, turn by turn instructions (Optional Text To Speech upgrade)
real sign information, Lane Assistance and ClearTurn instructions for complex junctions
access to Live Local Search – search for a business or service by generic term or brand in your immediate vicinity (which requires a mobile internet connection)
optional upgrade to Live Traffic services
safety camera notification (except in the US and Switzerland)
Starting today, I'll be giving away one copy of CoPilot Live for iPhone and iPod touch every week for the next three weeks. One copy will go to a commenter on this article, one to a new Twitter follower, and one to an existing Twitter follower. The winner will be chosen by my patented randomising spreadsheet

Each winner will be given their choice of app from the CoPilot Live range for iPhone , which cover the British Isles, Europe, Australia, South Africa, Russia and the USA. This app will be given to the winner using the "Gift This App" function in the iTunes Store.
The first competition (commenting on this article) closes on Tuesday 12th at midday. Good luck!