It's a bit late in the day (a compressed blogosphere day, that is) but here's my wrap up of the rest of 1.1.3's enhancements. I'm not going to detail all the changes. As I said this isn't going to be a copy and paste blog, and the changes are well detailed elsewhere. I want to pick out a few of the things that others may have skipped over, and what they mean for the iPhone in the future.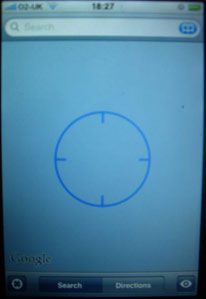 I'm going to outline my thoughts on the rest of the enhancements to the 1.1.3 release of the firmware in my next post, but for now I'd like to skip to the feature I was most excited about since the news was leaked – upgraded Google Maps with a pseudo-GPS function.
A New Look
The Maps interface has changed, adding:
a movable "drop pin" function to mark your own locations
the hybrid map view, where maps are overlaid on satellite images. Having the Hybrid view makes Maps far better in my opinion – it makes route-finding much easier when you can actually see the buildings and landscape
your current locations now becomes the start location when you switch to Directions, rather than blanking both start and end location (which was a little bugbear of mine)
But the big news in this Maps upgrade is the Location feature.
Here we go then – buy a domain, whack up a WordPress install and Hey Presto, it's a successful blog!
Well, not quite. Original content, good writing, and an enthusiasm for the subject make for a good read, and that's what I'm aiming to provide.
This site is launching off the back of an article that I wrote for All About Symbian, dedicated to my current favourite shiny gadget. It isn't going to be another copy and paste linkbait site with daily updates for the sake of it, but rather a site with a few posts a week, taking a (hopefully) more considered view. Steve Litchfield's also going to provide the occasional article, which I'm sure you'll enjoy reading as much as I do.
So, I hope to see you after today's Macworld announcements for my thoughts on where this takes the iPhone, and the rest of us, next.
Cheers
Matt