I've been meaning to write about the options for picture messaging on the iPhone for a while, but that's pointless now . A proper native MMS application was released on January 5th, and – unsurprisingly – it's already the third most downloaded free app on the UK App Store.
I wrote in August that MMS sending was coming to your O2 iPhone. Ross McKillop wrote a web app (iPhoneMMS.net) that interfaced with O2; originally this just allowed viewing of messages, but was later expanded to include sending. He has now teamed up with Ed Lea, who wrote the highly-regarded TV Plus, to create a native version of the web app. And it's superb.

Before I go on, let me just reiterate – it's just for O2 iPhone users in the UK. For now.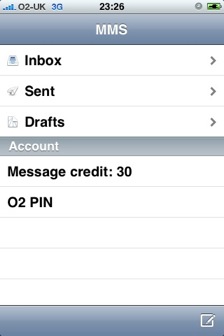 Once downloaded, just input your O2 phone number and MMS password. If you don't have one, you receive the password in a text from O2 when you're sent a MMS. You're then presented with an Inbox, Drafts and Sent, plus an option to buy credit. You can reply, forward and save the images to your Photo Library. There's more on the fuctionality in the FAQ. It all works beautifully.
Billing
Because this isn't an app that's made by O2, Ross and Ed have to sell MMS credit – so you're not billed directly by O2. Credits are bought within the app using Paypal. There is some consternation in the reviews on the App Store about this, but it's not something that can be rectified and keep the app for sale, according to Apple's rules on inclusion for the App Store.
Limitations
There are some limitations, such as not being able to send video or audio, so it's not full MMS. But given the iPhones's own limitations, that's not such a great problem as the phone cannot record video or audio or send saved files. Also, the app cannot currently send to a non-UK number.
If you've upgraded from the iPhoneMMS web app, then there are certain problems at the moment, such as existing MMS pictures not being visible.
They've had other service issues since they launched this week, which Ed and Ross have detailed in this forum post. These have resulted from both the huge popularity of the app and O2's own servers having difficulties. Ross and Ed have already moved to a more capable server, and given the responsiveness that I've noticed from Ross before, I'm sure it won't be long before they are sorted out. You can keep up to date with progress through their Twitter feed.
What's Next?
Another native iPhone client is being developed by Mobispine, but this is a first for the App Store.
Before everyone gets too excited, this app is only available to iPhone users on O2 in the UK, but the developers do want to work with international carriers to bring this to their networks, and integrate it with their own billing systems.
Yes, it's somewhat ridiculous that MMS capability should be news. But there we are – it's better than no MMS, and it's a polished application.
Get the MMS Photo Messaging app for free from the iTunes Store.