Archives by date
You are browsing the site archives by date.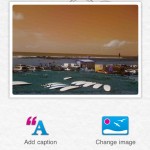 |
John Gruber recently highlighted Google searches for "finally" and "iOS5". It seems a lot of people think iOS has now hit a point where it has matured into a really solid platform.
I've been using the new version of Touchnote's iPhone app – out later today – and I feel exactly the same. All the niggles that I complained about before have been worked out.
If you're not aware of Touchnote, it allows you to send postcards – real, physical ones, not eCards – using photos from your iPhone. I loved the idea when the Touchnote app came out in 2009, and used it to send a few cards on holiday.