On the face of it, an application to keep a record of your DVD collection in your pocket seems a bit pointless but I know from experience that it can save time and money. For anyone with more than a handful of DVDs, there'll come a time when they're about to buy a DVD only to hesitate, trying to remember whether they already own it. If they're unlucky, that moment will only come after they've paid. Been there, done that. Surprisingly then, it turns out to be very useful to carry a record of your DVD collection around with you. myMovies from Netwalk aims to let you do just that.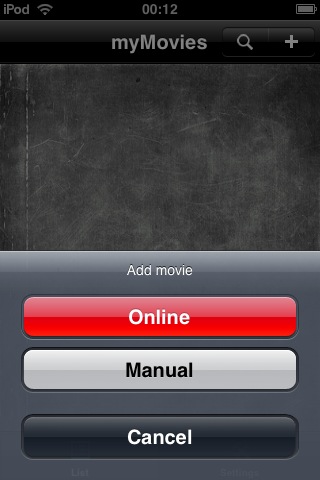 Starting off
You're initially presented with a blank screen encouraging you to add your films. The process is easy enough. Press the '+' button and you're given the option of adding a film's details manually or online. Choosing the later option takes you to a search screen where you type in the name of your DVD. Assuming you're online, the app then returns a number of matching films based on details found on the Internet Movie Database (IMDB) website. Selecting one shows you the film's details as grabbed from the site. Once the details are retrieved, you also have the option to tap the 'IMDB' field to take you to the relevant web page via Safari. I have to say the data captured seems rather incomplete to me, missing such obvious information as Director and leading actors.
An image is also grabbed from the web showing the cover of the DVD. This is a nice idea but it seems the images are taken from American editions which, if you're outside the USA, may be unfamiliar and not match the image on the front of your copy. Some films have no image for them (Seven Samurai, for example) but the app does give you the option to add your own by selecting an image from your Photo library. This will obviously suit iPhone owners with their inbuilt camera better than Touch owners who are forced to either manually sync a photo of their DVD or use Safari to find and image and save it. You can also give the film a rating from 1 to 5 which can be used to sort the DVDs in the main screen.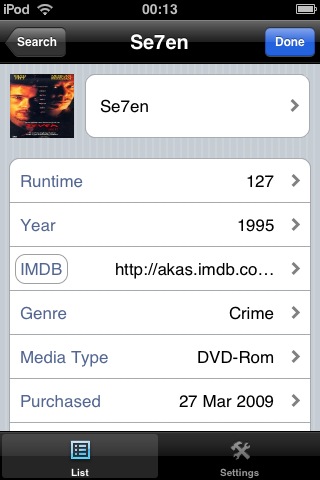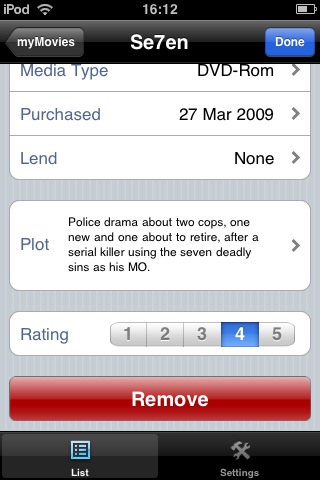 Adding a film manually is obviously a slower process and from my experience somewhat buggy. I tried adding a couple of films this way and found the app crashed back to the desktop whenever I tapped the 'Purchased' field. This happened several times consecutively but I noticed when I later added another film, I was then able to select a date. Why the starting date was in the 1970's is a bit of a puzzler though – why not default to today's date as happens when adding a film via the online option?
Neither a borrower nor a lender be
In the details screen you'll see a field called 'Lend'. Selecting it brings up the option to choose someone from your contacts list. The idea here is that you'll be able to keep track of your DVDs when they are lent out. The problem comes when your friend returns the DVD. Tapping the 'Lend' field again, brings up the same options with no apparent way to remove them from the field. You can change the contact the DVD is lent to but not remove them.
As you add your films, the main screen will start to fill. Here you're able to scroll up and down the list, tap a DVD to see its details and search by title (and nothing else). Going into the 'Settings' screen gives you the option to display the DVD's title, change the background image to one of three pre-sets and sort the films by Title, Genre or Rating.
And that's about it.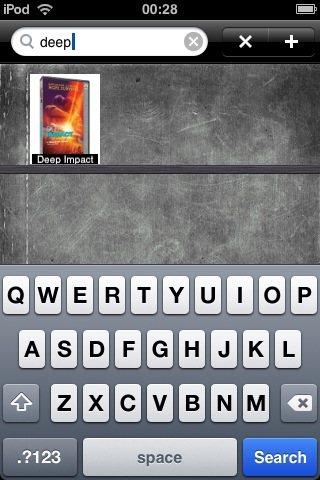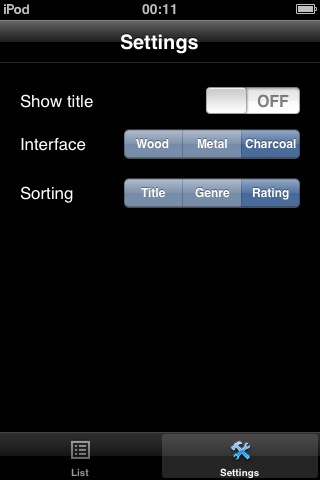 Conclusion
My overall impression of this app is dictated by what it can't do rather than what it can. I'd love to be able to do such things as view the cover art full screen, add my own fields, list only those films directed by Alfred Hitchcock with a rating over 3 and so on. An import/export option would also be useful as would other views such as a normal list view and, as 'Claudia Sniffer' requests in her App Store review, the ability to show the films in a coverflow style. Though I've always found it impractical for music selection, being able to flick through your collection like this might be helpful when trying to decide what DVD to watch on a wet Sunday afternoon.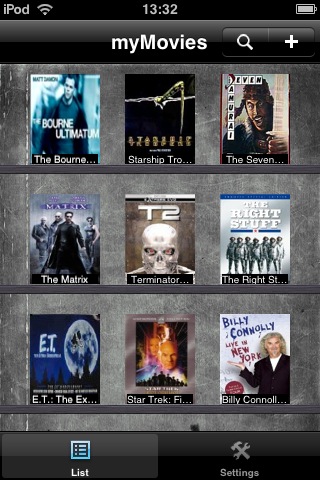 Anyone starting with only a small collection of DVDs might well find this app suits their needs. Those of us with larger libraries, may want to wait to see what future updates bring before taking the trouble of adding their whole collection.
What it does do, it does fairly well even while giving the impression of being a somewhat flakey beta version rather than the well polished, finished product. There's no doubt that a few bug fixes and added features would turn this into a much better product though.
myMovies
Version reviewed: V1.1
Category: Lifestyle
Company: Netwalk
Current Price: £1.19
Works on: iPhone & iPod Touch