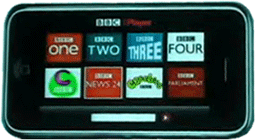 There have some been some tantalising tidbits floating around the web for a while, raising the possibility that the BBC's iPlayer could be extended to more platforms, possibly including the iPhone.
At the moment, the iPlayer catch-up tv service is available in two flavours:
download – only for Windows XP and Vista using Internet Explorer
streaming – for Windows, Mac OS X and Linux using Flash
A demo video appeared in July last year showing iPlayer on the iPhone, but it seems to only have been a mock-up. If we are going to get BBC shows on the iPhone, how will it happen?
I use a modded Xbox running XBMC to watch most of my recorded tv at home, so I was intrigued by this post on the XBMC forums by cubicgarden, who works for the Beeb on BBC Backstage. He wrote:
2. We are looking to build iplayer for the Wii, iPhone and others by the end of this quarter. But with the device experience in mind.
Very interesting! BBC content via iPlayer would make devices such as the XBox 360 and Wii more compelling choices for on-demand tv, and leech some early-adopter customers from Sky and Virgin. Also having it also on the iPhone and perhaps Symbian devices would be amazing.
There's obviously a definite line between the wishes of a team member and official BBC policy, so I contacted cubicgarden and asked him to clarify the management position. The response back from the Head of the iPlayer team via cubicgarden was, "…they would like a wii and iphone edition of iplayer" .
That's not exactly a cast-iron guarantee, but it seems there is a desire to make it happen, and there is internal support at the BBC to make content more accessible (BBC Backstage). But what are the practical obstacles?
Downloads for more platforms
The BBC has been rightly criticised for shutting out all but license payers running particular Windows operating systems from the download service. The limitations of the system-specific DRM and Kontiki P2P mean that it's unlikely to be extended to other platforms such as the modded Xbox, Wii, Symbian and iPhone. Another problem for mobile downloads is that unless the BBC changes the current setup, mobile operators are very unlikely to sanction a P2P app from the Beeb using their precious, expensive mobile bandwidth.
There is a sliver of hope for the iPhone though, if Ashley Highfield, the BBC's Director of Future Media and Technology, gets his wish. With Apple's announcement of the iTunes rental service featuring time-limited downloads, Ashley blogged about bringing BBC tv programmes to iTunes, thereby making it to the iPhone and Apple TV in that way? The time limits on watching the shows would probably have to be altered to fit the BBC's agreements with their rights holders, but I think it would significantly broaden the appeal of the service, which is in line with the Beeb's remit. Also, the BBC has already done content deals with the likes of Youtube and Myspace.
For me, snugly cocooned in the Appley ecosystem, BBC on iTunes would be ideal, enabling legal and easy BBC tv on-the-go. But it does still leave Symbian phones, Linux users and other platforms out in the cold.
How about streaming then?
Even if downloads can be extended to other platforms, this does not allow for on-demand mobile tv, as you have to load your device before you leave the house. But there are two main problems in making the streaming iPlayer service available to the iPhone:
bandwidth

If you're not on a Wifi connection, EDGE just isn't going to cut it. End of, move on.

no native Flash support

Unless Apple adds Flash support to the iPhone (or buys Abobe and combines Flash with Quicktime, as Bob Cringley suggests they will), then iPlayer video would need to be transcoded from Flash (specifically Adobe's proprietary RTMP* protocols) to H.264 (1).

This could happen on the device, but streaming video over Wifi and then transcoding would be quite CPU-intensive and battery life would be hit hard. The other option is for the BBC to provide a native H.264 stream, accessed via either a native app or web app. That means a lot of extra backend work for Auntie, and would they be willing to countenance providing another stream that's likely to be more easily downloaded by wily hackers?
Also, geoip comes into it. The BBC would have to ensure that only UK residents can access the system. I don't think that's too much of a challenge given that they already have that in place, but it's one more thing to consider.
No time soon
The practical difficulties mean that I think we can rule out iPlayer working on the iPhone for now. The streaming version may well be extended to other platforms, but right now you're much more likely to get iPlayer streaming onto a mobile device than can play flash natively, such as the Nokia N95 8GB with the latest firmware. Apparently iPlayer loads on this phone but some javascript causes a crash. If anyone wants to write a page that scrapes off the BBC's custom javascript, then we could be looking at an ideal mobile tv solution. Anyone game?
The most likely route for BBC content to end up on the iPhone is via an agreement with Apple to deliver via iTunes. It's currently much easier to get tv onto another platform by either downloading from copyright-infringing torrent sites, or by using a tv tuner (such as Elgato's EyeTV) connected to a computer. That just isn't right in my opinion, and the big content providers in the UK need to catch up with the demands of the public. BBC tv via iTunes would be a good start.
(1) H.264 is being rolled into Flash 9, so the iPhone could possibly play it. There's more info over at Suburbia (via cubicgarden)